Profile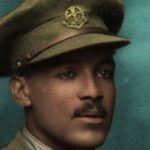 Walter Tull
A sportsman and soldier who redefined what Black people could achieve in both worlds.
The Historian
The historian championing this figure

I'm Andy Lock, a specialist in First World War history, looking at fighting methods during the 1914-18 conflict. Walter's sporting and wartime actions set him apart, and he is deservedly one of the British Army's most famous regimental officers.
About:

Walter Tull was one of the first black men to become an infantry officer in the British army, even though Army regulations at the time specified that only men of 'pure European descent' could be officers.

Walter was both a professional football player and a soldier during World War One. Walter had to give up his career as a footballer to serve in the war, but he then became recognised as one of the first black officers to lead white British soldiers into battle.

Walter was born in Folkestone, Kent in 1888 and he came from a mixed-race family. His mother, Alice, was a Folkestone local while his father, Daniel, moved from Barbados to England. He married twice and had six children.

He was quickly promoted to the rank of Sergeant in the 17th Battalion of the Middlesex Regiment, known as the 1st Footballers' Battalion. In 1916 Walter moved back to England and began training as an Officer. At this time, usually only white people could be trained to be an Officer.

Walter was highly praised for his role in battle, notably for leading soldiers over the River Piave in Italy on a daring and dangerous raid. After returning to the Western Front, he was killed in action leading his men on 25th March 1918. His body was never recovered, and Walter is commemorated on the Arras memorial in northern France.

What was the time period like?:

The late 19th and early 20th Centuries were a dynamic period of social change and the world becoming recognisably modern, but also the British Empire at the height of its global influence. Many of the technological developments that we take for granted now were in their infancy, such as cars and aircraft. Association Football was also young, only having split from Rugby Football in 1871. In the years that followed, many of the big clubs that we know so well were founded.

The world-defining event in this period was the First World War between 1914 and 1918, which led to the collapse of empires across Europe, a global power shift, and the deaths of millions in brutal fighting conditions.

Black people were involved in fighting across the world; in fact, the first shots fired by British soldiers in the war were by black troops in Kenya. Broadly speaking, it was very difficult for Black people to advance in society, but not impossible. The British class system was very much in place, and if a black person had the proper social standing, then more doors would open for them. The problem was that very few did, and Walter experienced hostility as a Tottenham player on grounds of race, prompting him to leave the club.

During the war and particularly at the front, race and class mattered less than in civilian life. Anyone who showed the proper skills and qualities could rise through the ranks, and Walter certainly did.

What influence have they had on Modern Day UK?:

Walter Tull is possibly the most famous British regimental soldier of the First World War, if we exclude those who went on to be famous for other things, such as poets or politicians. His example, both in his sporting and soldiering lives have inspired others, especially when we consider both his parents died when he was young, and he spent time in an orphanage growing up, as well as attitudes in society being set against him.

Walter showed that he could overcome adversity which held back millions of others, based on his own abilities, dedication, and sacrifice.

Born: 1888

Died: 1918
---
---