Profile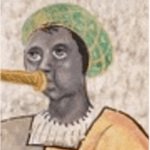 John Blanke
About:

John Blanke was the trumpeter to the Tudor courts of Henry VII and Henry VIII

He is the first person of Black African descent in British history for whom we have an image and and a record

We first see him in the court accounts for November 1507 we see he was paid wages

We have an idea of what he looked like as he appears twice in the 1511 Westminster

Tournament Roll, in troop of six trumpeters at the start of the joust and at the end. The roll is a 60ft long document commissioned to commemorate the joust called by Henry VIII to celebrate the birth of his son to Katherine of Aragon.

John Blanke plays at the end of joust leading the winner – the King – of the joust.

What was the time period like?:

The 16th Century – The Tudors

Henry wanted Himself, The Tudor Court and England to be BIG in Europe!

He called a BIG joust to celebrate the birth of his son, his heir.

All the important courts of Europe were there to see the magnificence of Henry's court.

John Blanke the Black trumpeter presence showed how  cosmopolitan , how international , how fashionable his court was, as many of to the  leading courts of Europe had Black trumpeters.

We know he married as the king gave him a wedding presents  but we don't know who to and where they lived….

On 14 January 1512, the King ordered a gown of violet cloth, and also a bonnet and a hat,

which was to be taken of our gift against the marriage of our trumpeter

We know he successfully petitioned the king for wage increase….

To the kyng our soveraigne lordeIn most humble wise besechethes your hyghnes your true and faithfull servant John Blake oon of your Trompets (2) That where as his wage nowe and as yet is not sufficient to mayntaigne and kepe hym to doo your grace lyke service as other your trompeters doo. (3) It may therefore please your hyghnes in consideracon of the true & faithfull service whiche your servant dailie doeth unto your grace (4) and so during his lyf entendeth to doo to geve and graunte unto hym the same somme/ persome Of Trompete whiche Domynyc desessed late had to have (5) and enioye the said Reward to your said servant from the fyrste day of December last passed during your moost gracious pleasure which wage of xvi d by the day (6) And that this bill signed with your most gracious hand may be sufficient warrant and discharge unto John Heron treasurer of your Chamber for the payment of the said wage accordingly (7) And he shall dailie pray to god for the continuation of your most noble and royall estate longe to endure

Where did he go when he left the court ?

The wedding gift in January 1512 is his last mention in court record.

What influence have they had on Modern Day UK?:

Has the life of the historical figure shaped anything in our lives today?

Yes as his presence and being paid wages demonstrates that there were Black people in England in Tudor times and they were not slaves. Black people held a variety of positions and roles in Tudor society servants, divers, seamstresses, silk weavers, needle makers as well as musicians.

How and why would our lives be different if they didn't do what they did?

John Blanke's presence along with other Black Tudors shows that Black folk have lived ordinary lives in Britain for centuries.  In fact evidence of Black people in Britain can found in Roman times so contrary to what many believe Black folk did not arrive in Britain in 1948 , they have been here for centuries.

Have there been any events within the students (or their parents' lifetimes) that are connected with the historical figures' impact on the modern world?

Yes the Proclamation of accession of Charles III was exactly the same ceremony for that of Henry VIII –  John Blanke is recorded as playing at the ceremony – Trumpeters and Heralds proclaim the transfer of power – The Queen is dead. Long live the King.

Born: UNKNOWN

Died: UNKNOWN

Extra resources:

A contemporary Art and Archive project celebrating John Blanke the Black trumpeter to courts of Henry VII & Henry VIII.
---
---