Profile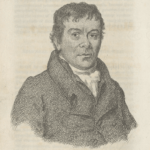 Robert Wedderburn
About:

Robert Wedderburn was born in Kingston, Jamaica in 1762 as the son of James Wedderburn, a Scottish slaveholder and doctor, and an enslaved African woman Rosanna. When she was 5 months pregnant,  James sold Rosanna. While Robert repeatedly claimed to have been born free, historical records show that his father only freed his son when he was two.

When Robert was 16, he joined the Royal Navy as a sailor as did many people of African descent at this time. He was shocked by the brutal, physical punishments on board the navy ships. These reminded him of the tortures of enslaved Africans that he had witnessed in Jamaica. He arrived in London in 1778 with little financial security and started working as a tailor. For his whole life was very poor. He then converted to Christianity and, by 1813, had become a licensed Unitarian minister, a Christian radical movement.

At the same time, he became increasingly involved in radical politics. He joined the radical underground in London and campaigned for revolution both in Britain and the Caribbean. In his journal The Axe Laid To Root (1817) and his sermons, which he held in a converted hayloft in Soho, he attacked both the exploitation of the English poor and the enslavement of Africans in the Caribbean. He praised the fight of the enslaved to liberate themselves and called on the British workers to follow their example

Imprisoned by the British government for two years in 1820, in 1824 he published a stinging attack on his biological father, the abuse of enslaved women and the slaveholder class. The Horrors of Slavery provoked a furious reaction from James Wedderburn's white son and heir, Robert's half-brother Andrew Colvile.

He continued to campaign for freedom of speech and in 1831, at the age of 68, he was arrested and sent to prison again for two years. There are few traces of him after his release from prison. One historian, Malcolm Chase, suggests that he might have gone to New York for a short time. He also discovered a burial record from a London cemetery from January 1835 for one Robert Wedderborn. This is likely to be Robert Wedderburn but we cannot be 100% sure.

What was the time period like?:

The late 18C and early 19C was a time of great and often, frightening, change, both in Europe and the Americas. There was, often violent, political and social change so much so that one historian Eric Hobsbawm has called it the "Age of Revolutions." First, there was the American Revolution, which saw Britain lose its colonies in North America and the USA became officially independent in 1783. In France, in 1789, there were widespread hunger and social unrest. The middle classes protested against the rule of the aristocracy (the noble people) and the monarchy (the king). It turned into a long revolution that saw France transform from a kingdom to a republic (a sort of democracy with elections). Many aristocrats but even more poor people were killed and executed. In 1799, Napoleon Bonaparte took over power and eventually turned France into an empire (a sort of kingdom) and started many wars in Europe and elsewhere.

A third revolution, which has often been ignored in Europe and North America, took place in Haiti in the Caribbean. It was a French colony and. with its large sugar plantations, the most profitable European colony. But the wealth was built completely on slavery. Transported and enslaved Africans had to work on the plantations. They were tortured and made to work so hard that often died at a young age. In 1791, the enslaved Africans started a large revolt and burned the plantations and killed the slaveholders. This was the beginning of the Haitian Revolution (1791-1804). The black fighters ended slavery, defeated Spanish, British and French troops and created a new state Haiti. This is the first and only state in the Americas that was founded by people of African descent. It shocked slaveholders, businessmen, and governments in the Atlantic world. But for people of African descent, it formed a great inspiring example of self-liberation from slavery and racism.

Wedderburn refers to the Haitian Revolution several times. In his journal, The Axe Laid to the Root (1817),  he threatens the Jamaican slaveholders, if they won't free their enslaved Africans, they will end up killed like the slaveholders in Haiti. In this advertisement for a debate in his chapel in a hayloft in Soho in London, Wedderburn sums up the previous debate if an enslaved person had the right to kill his 'master' if he does not free him or her. Wedderburn claims that several people from the audience said they will help the enslaved in the Caribbean to free themselves by force as the Haitians did:

Slavery was the basis for the economy of the Atlantic world. It made Europe rich and West Africa poor. The European slave traders robbed West Africa of its younger, economically active, people and started wars so that there will more African captives. By contrast, in Europe, the slave trade and slavery created huge wealth but largely not for the poor but for the middle classes and the aristocracy. Britain would not be 'great' without the slave trade and slavery, meaning as wealthy and powerful as it became. Many of the grand houses in the countryside were built or rebuilt with the money from slavery and entire British cities became wealthy through the slave trade such as Bristol or Liverpool which can still be seen in the elegant buildings and churches. Even where I write these lines, in an office in the Bluecoat Art Centre in Liverpool, there is a history of slavery. It started out in early 18C as a school for orphans (children who lost their parents) but the money came from the slave trade.

At the same time, the slave trade also led to a migration of people of African descent to Europe, including Britain. Liverpool has one of the oldest black communities in Europe. While most of the African captives were transported to the Americas, there were enslaved Africans in Britain. While some people continue to claim that there were no slaves in Britain, this is simply untrue. Some of them were being sold in coffee houses (forerunners of cafes) and advertised in local newspapers. This is an example from the Liverpool newspaper the Williamson Advertiser (1766) announcing the sale of 11 newly transported Africans in a city-centre cafe:

As long as there was slavery (until 1838 in GB), the freedom even of those black people who were by law classed as 'free' was never secure. By the end of the 18C, there were larger black populations in Britain. They largely lived in cities, with an estimated 20,000 to 30,000 people of African descent in London. Most lived in poverty and there were only a few cases of Black Britains who made some more money. Two examples from the 18C are the formerly enslaved servant, writer and musical composer Ignatius Sancho (c. 1729-80) and the formerly enslaved writer and campaigner against the slave trade and slavery Olaudah Equiano (c. 1745-97). (both featured on this site) While Sancho was the first black person in England to be allowed the vote (you had to be rich to be allowed to vote), Equiano left his daughter around £80,000 in today's money that he had made from selling his slave narrative and talks promoting it and the end of the slave trade.

By contrast, Wedderburn left in harsh poverty for his entire family. His work as a tailor did not pay very well. With the growing industrialisation of Britain (much of the money to pay for it came from slavery), craftsmen suffered a loss of pay and were often out of work. Telling the story of his life in The Horrors of Slavery (1824), he remembers how he went to his white father in Scotland to ask for help; Robert's wife had a newborn baby and he was out of work. His father called him "a lazy fellow" and had his servants send him away with a sip of beer and "a cracked sixpence." Wedderburn suggests that his "worthy father" is a typical slaveholder, rich but morally corrupted. What Wedderburn makes very clear through the examples of his shameless father, is how British wealth is based on slavery and moral corruption. The lack of any morals makes the rich mean and treat not only the enslaved very badly but also the poor whites.

What influence have they had on Modern Day UK?:

At his time, in particular, in the 1810s, Wedderburn was relatively well known and feared by the government. Even the Prince Regent (who ruled for the King, who was very ill) demanded that the "firebrand" Wedderburn should be thrown in prison as soon as possible. He appears in several political cartoons, texts and spy reports (The government spied on those they thought were dangerous to the government). While some historians and activists have talked and written about him, he is largely forgotten today.

But I would say that he is very important. A Black working-class radical, he sees things very differently than more established black figures of the time, such as Equiano and Sancho, who wanted to become English gentlemen. He stresses all the time how class and race oppression are connected. He believes that you cannot fight racism and slavery without attacking poverty. For him, the enslaved Africans in the Caribbean, with their resistance and fight against slavery, set an example for the British workers on how to liberate themselves.

Wedderburn is of great importance today because he was one of the first to stress the links between racial and class oppression. You cannot fight one without fighting the other. He also was very opposed to playing out black (enslaved) people against the white British workers, as some white people at the time did (and politicians continue to do). Finally, his example (among others) shows how the idea of a 'white' working class is a lie because there were always people of colour among it. Often, like Wedderburn, they campaigned very actively and bravely for workers' rights but were 'written out' of history. To champion them is very important for us, not just during Black History Month but also during the rest of the year.

Born: 1762

Died: 1834/35?
---
---