Profile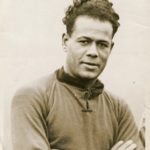 Jack Leslie
The Historian
The historian championing this figure

Hi I'm Lily, the historian for Jack Leslie. I'm a PhD student at the University of Manchester researching the history of racism in football. Jack was a Black professional footballer who was called up to the England squad in 1925, but was then stopped from playing due to the colour of his skin. It took another 53 years before Viv Anderson finally became the first Black player to represent England in 1978.
About:

Jack Leslie was an English professional footballer who was the only Black professional player in England during his time with Plymouth Argyle.

Leslie was born in Canning Town in August 1901 to a Jamaican father, John, a boilermaker, and an English mother, Annie, a seamstress.

Jack was a terrific player who joined Plymouth Argyle in 1921 and scored 137 goals over 14 seasons at the club. During his time at Plymouth, he became the first Black player to be made captain of a professional club in England.

He should have been England's first Black player when he was called up for the squad to play against Ireland in 1925, but this chance was taken away from him after the selectors found out about his heritage and his name was taken off the team sheet. After Jack was denied the chance to play for England in 1925, it was another 53 years before Viv Anderson became the first Black player to represent the men's national team in 1978.

Not only was Jack an incredible player for his club, but his is also a story of great historical significance and one that sadly still resonates as racist incidents in football and in wider society continue to this day.

In recent years, as more effort has been made to recognise the sacrifices and achievements of football's pioneer Black players, a campaign has been set up to raise awareness of Jack Leslie's story. In 2020, The Jack Leslie Campaign was set up with the aim of raising £100,000 to build a statue of Jack outside Plymouth's stadium Home Park. This money was raised in just 6 weeks, and the statue is due to be unveiled on Friday 7th October 2022.

What was the time period like?:

When Jack was playing football, he was the only Black professional player in the country. This meant that he had to work incredibly hard to succeed, and would have faced racist abuse from fans and fellow players alone.

The fact that he was stopped from representing England because of the colour of his skin even though he was so talented shows the level of racism that he was facing. For years after Jack Leslie played football, and even today, racism continued to be a problem within football and it took many years for a Black player to finally represent the national team.

It is also important to remember that Jack Leslie and other Black players who followed him did not only face racism when they were playing football, but this continued in their daily life.

What influence have they had on Modern Day UK?:

Until recently, Jack Leslie has not been a well-known figure, but the Jack Leslie Campaign has managed to change this!

His story shows that the history of Black players in English football goes back much further than when Black players started to play for the national team in the 1970s and 1980s, and also shows that it is only because of racism and prejudice that a Black player did not represent England much earlier.

Born: 17 August 1901

Died: 25 November 1988

Extra resources:

More information on the Jack Leslie Campaign and the statue that will be unveiled in October can be found on the campaign's website here.

Sky Sports have also made a really informative 5-minute video about Jack Leslie's story and the work of the Jack Leslie campaign (including their work in schools), which can be found here.
---
---